IrresistibleMe Jade Straightening Brush Review
If you've got naturally curly hair like me, styling often involves nurturing your curls with careful styling and the right products. Keeping my curls looking bouncy, hydrated and free of frizz is never as easy as wash and go. On the other hand, when I'm looking to wear my hair straight, I find that traditional irons do so much flattening that my locks end up looking limp instead of silky smooth.
Because of this struggle, I was excited but a little skeptical about trying Irresistible Me's Jade Straightening Brush, a ceramic tourmaline hair straightener that promises "quick and effortless straight hair without heat damage". Instead of the tong style straightening tool, the Jade Straightening Brush looks like a classic hair brush with a flat back and prongs, but heats up to 230℃ to straighten clean, dry hair with a simple brushing action.
The Brush & Packaging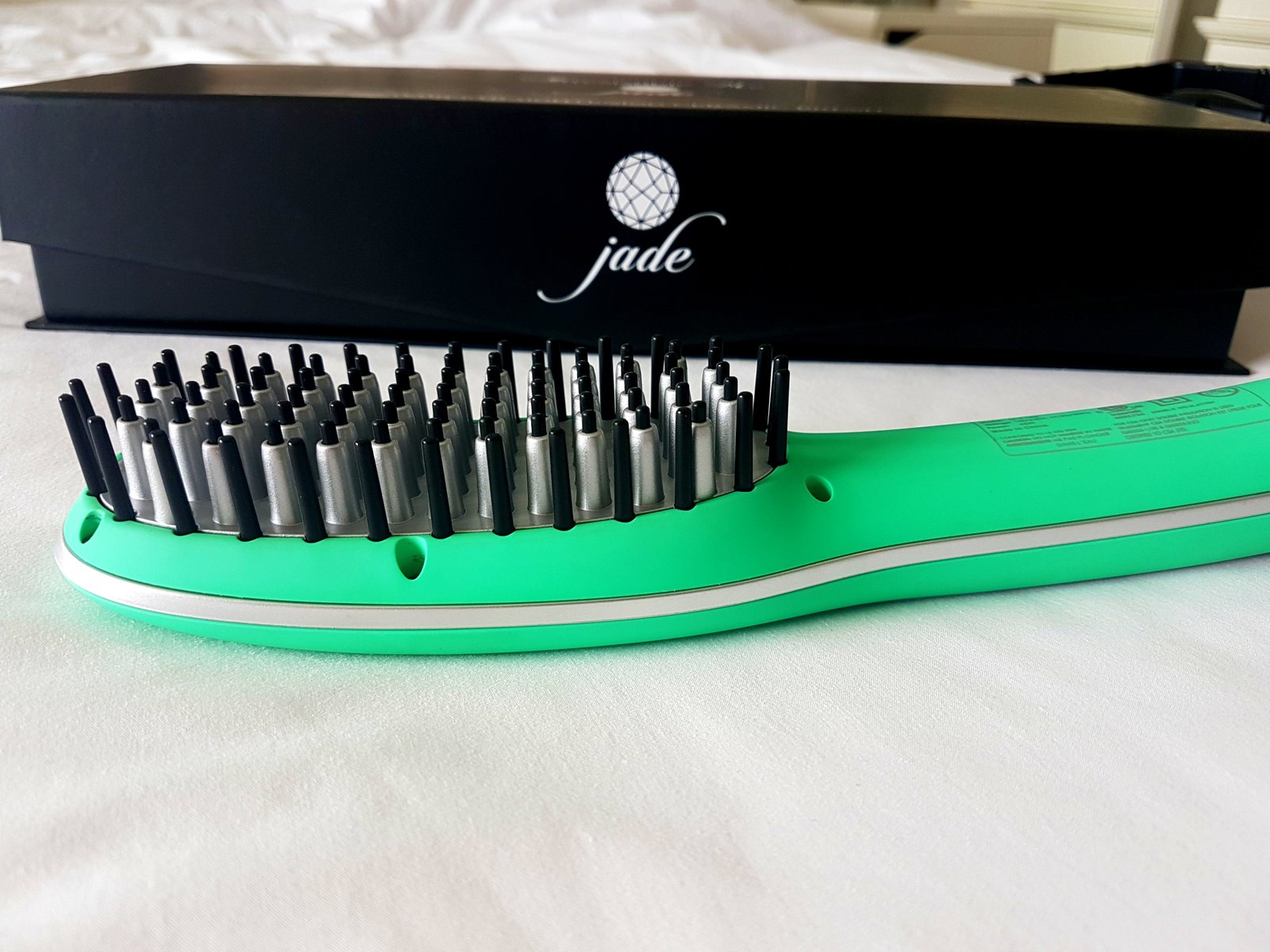 Like with any product, the first thing I noticed was the packaging. The Jade Straightening Brush comes in a slick black box designed with minimalist style that nicely contrasts with the aquamarine color of the brush itself. Unlike your basic hair straightener that doesn't have any controls other than an ON/OFF switch, the Jade brush features temperature control, and an LCD display that eliminates guess work. Fine haired girls can be confident that they won't fry their hair, and thicker haired women can crank it up to max. In addition to looking like a sleek, well crafted tool, the Jade brush comes with some added bells and whistles like fast heating time, automatic shut off, and anti-scald teeth.
Pros and Cons
The immediate pros of the Jade brush are in its design features, and it seems like Irresistible Me really made an effort to eliminate common issues with straightening tools. It felt comfortable in my hand, and the swivel cord and lightweight brush meant my arm never got tired while I was using it. I found that I could grab larger sections of hair than I would with a traditional flat iron, but even with my thin hair the whole process still took about 40-50 minutes. The lightweight design of the Jade brush means that more time spent using it won't be torture on your arms, and you can easily throw this along in your suitcase when you're travelling, or even in your backpack to freshen hair throughout the day. At no point during straightening did I feel my hair was being burned or damaged, and the end result was hair that was smoother without being flattened to death. The anti-static materials used in the Jade brush are a lifesaver if you live in a dry climate. If you're the kind of girl who lives for blowouts (or always dreamed of getting one but didn't want to splurge on the process), the Jade brush will make an excellent addition to your styling arsenal.
Before and After
If you have super curly hair like mine, the Jade brush isn't going to give you that blowout look in just a few minutes. The same reasons that this brush won't flatten or damage your hair means it can take a while to get the job done. It took me about 40-50 minutes to use on my entire head, and the crown area in particular required several passes through. Although the Jade brush makes it harder to burn yourself with the hot surfaces than a tong style straightener, the back of the brush still gets pretty hot after prolonged use. I'd recommend using a heat resistant mat or towel to protect any surfaces you're resting it on during use, and avoid putting your hand on the back of the brush.
Why I Love This Brush – Conclusion
After using the Jade brush, my very curly hair became smooth and much more straight without being flattened. If you're going for ultra straight hair, this isn't the tool for you, but I loved the natural, frizz-free look it gave me. I'd definitely recommend Irresistible Me's Jade Straightening Brush to anyone who's looking to smooth out their hair on a daily basis. It took a while to achieve the look, but with the Jade brush and a little bit of hair serum, I got about as close to an at-home blowout as I could hope for.