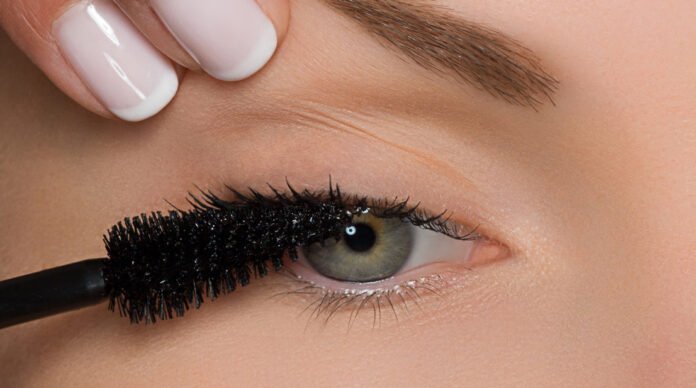 Best Hypoallergenic Mascara For Sensitive Eyes
| Mascara Tips for Sensitive Eyes

Do your eyes get red, itchy or otherwise irritated at a drop of a hat? Then you probably have sensitive eyes. Having sensitive eyes and being a makeup junkie doesn't have to be mutually exclusive. Luckily, there are many gentle non-irritating hypoallergenic mascaras on the market, so having sensitive eyes doesn't mean you have to give up on mascaras! We've rounded up the best hypoallergenic Mascaras for sensitive eyes. Read on our hypoallergenic mascara guide with tips and reviews.
1
What are some causes for sensitive eyes?
Allergies, prolonged or frequent use of contact lenses, and dry eyes can cause eyes to be more sensitive. Lots of screen time can also make your eyes sensitive, as eyes get easily strained and don't blink as often.
These are just some culprits that contribute to sensitivity and can cause bloodshot eyes, itchy or watery eyes.
2
What is hypoallergenic mascara and 

which ingredients in mascara you should look for.
Hypoallergenic mascaras are mascaras with formulas that minimize irritation and allergic reactions. Often they are fragrance-free, not waterproof and have natural ingredients.
Read the ingredients carefully to check for personal allergy triggers and irritants, as Hypoallergenic mascaras can still cause reactions.
Best Hypoallergenic Mascara For Sensitive Eyes – Mascara Reviews
Here are our picks for mascaras formulated for sensitive eyes that are affordable and amazing.
3
Skin2Spirit Mineral Mascara
Pros:
The mascara doesn't test on animals and its formula is free of petroleum, lead, parabens, gluten and mercury.
The formula is washable and can be rinsed off with soap and water or a makeup remover.
Carnauba wax, vegetable glycerin and olive oil are included ingredients to condition and nourish lashes. The hypoallergenic formula doesn't have any artificial fragrance. The ingredients are so natural that the company boasts that it's waterway safe. If you have to chuck it before you finish it, the remaining product won't cause any harm to the environment.
It's a water resistant mascara, which is rare from a green cosmetics company. The mascara doesn't cake and lasts for a long time.
You can buy it here.
Cons: Pretty pricy for a mascara–a cosmetic that you have to replenish pretty frequently.
Why we love it: This mascara can also be an eyeliner. Just apply it with an eyeliner brush and you're good to go. A two-in-one product that's more bang for your buck!
4
Chic Republic All Natural Organic Mascara
Pros:
If you have a lighter complexion or want to have a more natural look, brown is available as well as regular black.
Much like the Endlessly Beautiful Organic mascara, the Chic republic mascara is also all natural, gluten free and hypoallergenic. Eighty-five percent of its ingredients are organic. The mascara also boasts moisturizing and anti-inflammatory ingredients: carnauba wax, chamomile, sunflower oil, lecithin, vitamin E.
This mascara is buildable, so you can go from natural to bold with multiple applications.
Removing this mascara isn't a pain; it can be easily wiped away with some soap and water.
You can buy it here.
Cons: This mascara is available only online. Beeswax is one of the ingredients, so it's not a vegan mascara.
*Chamomile may cause a reaction if you're allergic to ragweed. Stay clear from this mascara if that's the case!
Why we love it: There's a money-back guarantee on the mascara so, on the off-chance you don't like this mascara after 30 days, you can get your cash back. No more buyer's remorse!
5
Naturally Rooted Premium Organic Mascara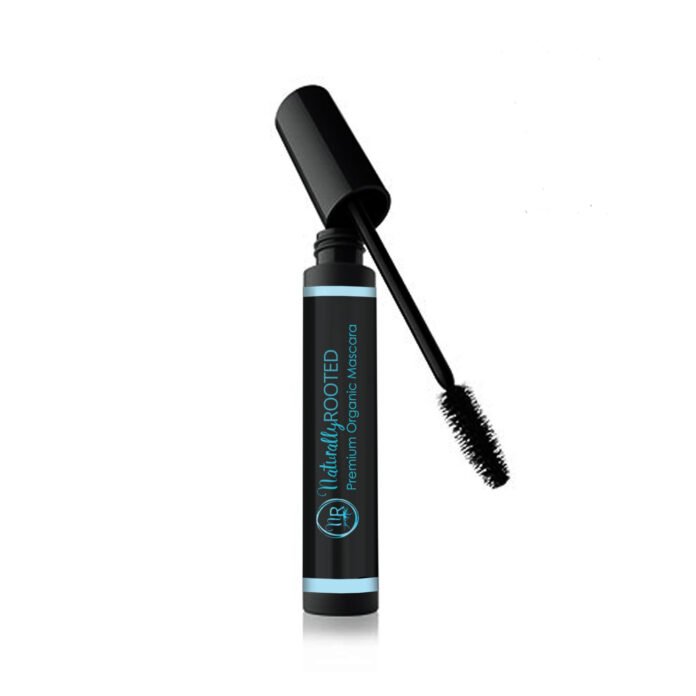 Pros:
This mascara is cruelty-free, paraben free and gluten free.
This isn't waterproof, which is ideal for sensitive eyes, yet it's long lasting. The mascara is easily removable with soap and water.
It's free of artificial fragrance and mercury. The mascara is very moisturizing with the inclusion of vitamin E, carnauba wax and lavender flower. Eighty-five percent of its ingredients are organic and 100 percent of the ingredients are natural.
The mascara is natural looking but can build up to a more dramatic look.
The price is more than drugstore, but cheaper than department store and cheaper than some other green cosmetic brands.
You can buy it here.
Cons: Black is the only color offered. If you're vegan, this product contains beeswax and won't be a good option.
Why we love it: Naturally Rooted says that the shelf life of their mascara can last up to 6-8 months after you open it. That's comparable to some mascaras with preservatives.
6
Almay one coat thickening mascara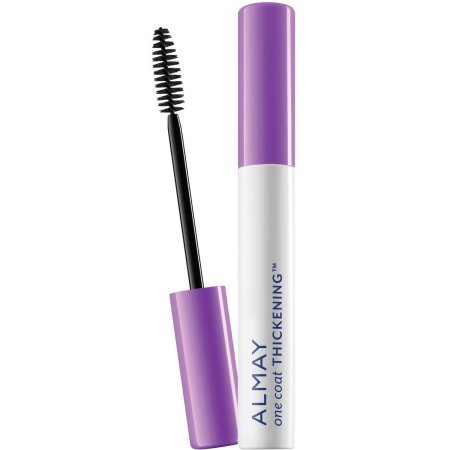 Pros:
This drugstore brand is available in a lot of locations, Amazon included. The mascara comes in three shades–black, black brown and blackest black. It'll suit many faces and gives you options for a natural, everyday look to a look worthy of a big night out.
And as a drugstore brand, the mascara is naturally affordable. It's a great option at less than $15.
The mascara was tested by ophthalmologists and dermatologists. It boasts that it's a good mascara choice for sensitive eyes and contact lens wearers. The ingredients include aloe and vitamin B5, which nourish lashes.
It boasts a clump-free formula that doesn't smudge or flake.
You can buy it here.
Cons: If you're looking for a vegan or natural mascara, this isn't for you. It has parabens and uses chemical oxides for its pigments. If you're not in the market for green cosmetics, this is a pretty good mascara to try!
Why we love it: The mascara comes in a non-waterproof and waterproof formula.
7
Covergirl Lashblast Volume Mascara
Pros:
This is another affordable drugstore mascara. It also comes with 0.44 oz, which is a lot of mascara at any price point!
It has a hypoallergenic formula, which is a good option for sensitive eyes.
The wand is designed to deliver volume to the lashes and it's a good choice if you want to give your lashes that extra oomph. The mascara boasts a long-wearing and smear-proof formula.
The formula is buildable and you can add more volume with each application.
You can buy it here.
Cons:
This is a great option–unless you're looking for a natural choice. The mascara contains parabens and alcohol. It's also not cruelty-free.
There are three other Lashblast formulas that claim they also boost volume, as well as offer something else. The Lashblast Volume mascara only boosts volume.
Why we love it: Lashblast has four colours to choose from–very black, black, brown black and brown. For a mascara, that's a pretty wide selection and will give everyone a mascara option for everyday looks as well as options for a look that's striking.
8
Maybelline Great Lash Waterproof Mascara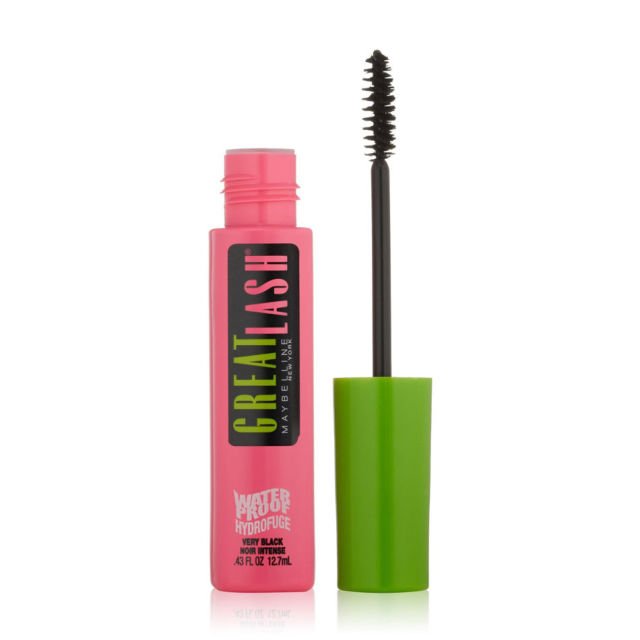 ros:
Great Lash is one of those mascaras that have universal appeal. It's not just a great drugstore mascara or a great mascara for sensitive eyes, it's a great mascara. Period.
You get a lot of bang for your buck with this mascara: it includes 0.43 oz of product.
There are two colours: brownish black and black, but both are flattering to a great number of skin tones and eye colours.
The formula is hypoallergenic and a good choice if you wear contact lenses. Beeswax, wheat germ oil and carnauba wax are included in the mascara to nourish lashes. The mascara wand helps deliver a clump-free look to evenly coat lashes.
Lashes look full and healthy and the formula is buildable, allowing you to create your desired look with more applications.
You can buy it here.
Cons:
Great Lash isn't a cruelty-free mascara. The product contains parabens, which might be an issue for some. Including that, however, gives Great Lash its long shelf-life of a maximum six months.
The waterproof version won't easily be removed with soap and water alone; you'll need to use a separate makeup remover.
Why we love it: Great Lash comes in other options besides its waterproof formula: the washable version and the washable version with a curved brush.
9
Maybelline New York Full 'N Soft Washable Mascara
Pros:
The mascara has been tested by ophthalmologists and dermatologists. It's been tested suitable for contact lens wearers.
Its hypoallergenic formula includes vitamin E to nourish lashes.
The formula gives a natural thickening and lengthening effect and doesn't clump or flake. This mascara would be a perfect everyday choice.
The washable formula rinses off easily with water and soap or a makeup remover.
You can buy it here.
Cons:
This product contains oxides for pigment and parabens. Maybelline isn't a cruelty-free brand, which means this product is subject to animal testing.
If you're looking for something more dramatic, this mascara is not for you.
Blackest black is also the only colour option, so it might be jarring to wear everyday for those with lighter coloured lashes.
Why we love it: The formula has a patented quick dissolve system, which is designed to make mascara easy to remove with minimal lash loss.
10
Neutrogena Healthy Lengths Mascara
Pros:
The mascara comes in three colors: carbon black, black and brown.
This is also a mascara that's been tested by both dermatologists and ophthalmologists and is also safe for those who wear contacts.
The formula is designed to not flake or smudge and the wand delivers a clump-free application. Moisturizing vitamin E, olive oil and sweet almond oil are some of the ingredients in the formula that nourish lashes.
Taking this mascara off shouldn't be a hassle as it is washable with soap and water or a makeup remover.
You can buy it here.
Cons:
This mascara is not cruelty-free or paraben free.
This is also not a mascara that you turn to if you want to wow someone. It works well as an everyday mascara, very natural and enhances your lashes.
Why we love it: This is a good mascara to lengthen lashes while still keeping it looking natural. It's a go-to mascara for those no-makeup makeup days. A look that's hard to achieve and easy to mess up.
11
Endlessly Beautiful Natural Organic Mascara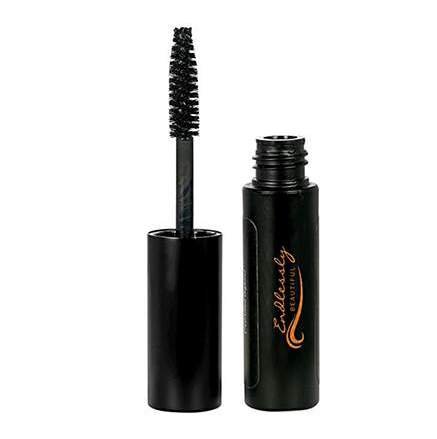 Pros: This is a green mascara with natural ingredients. It's
This is a green mascara with natural ingredients. It's cruelty-free, gluten free and vegan. Some green cosmetics get a bad reputation for being great with their PR but terrible with their product. This mascara performs just as well as other mascaras that you might find in the drugstore or department store without all the ingredients that you can't pronounce.
This mascara contains moisturizing ingredients like vitamin E, carnauba wax, sunflower seed oil, lecithin and cinnamomum zeylanicum bark extract. It also has chamomile, which is anti-inflammatory. And it doesn't include alcohol!
This is great for sensitive eyes, and even contact lens users can wear this.
It's not just a natural mascara; it gives off a natural look. No smearing, smudging of clumping here!
Removal is easy as it can be removed by water, but make sure to wipe all away all traces of mascara. No excuses!
Cons:
This is actually a good thing, but the mascara is hard to buy because it's consistently sold out.
Another drawback may be that the formula isn't waterproof, however it is long-lasting.
It's definitely more costly than a mascara you would pick up at the drugstore and this is preservative-free so it must be tossed by its expiry date. Even earlier if you notice the consistency isn't what it once was.
Black is also the only colour, which might not work for everyone.
This mascara won't be for you if you're a heavy mascara user or like your lashes to look dramatic.
*Chamomile may cause a reaction if you're allergic to ragweed. Stay clear from this mascara if that's the case!
Why we love it: The mascara comes in a smaller tube to make it easier to tote around when you travel. It does, however still include 0.25 oz of product which is similar to full-sized mascara, such as Too Faced's Better than Sex mascara (0.27 oz) or Tarte's Lights, Camera, Lashes mascara (0.24 oz).
12
Is It Okay to Use Waterproof Mascara for Sensitive Eyes?
Generally, waterproof mascara isn't recommended for sensitive eyes due to how difficult it is to remove. But, there are options for sensitive eyes. Check for hypoallergenic formulas and, if you must, practice gentle and thorough cleansing to wipe away all traces of product.
13
What to do if you have sensitive eyes? 

Tips and tricks for applying mascara to sensitive eyes?
In general there are some things to keep in mind when dealing with sensitive eyes and makeup.
Ensure that your makeup is not expired.
It's such a simple step, but this needs to be said. Making sure that the shadows, eyeliners and mascaras you use are not expired will help prevent any unnecessary irritation. Mascara, especially, has a short shelf life. Unless you're using new wands each time, the product can degrade at a faster rate with agitation and use of the mascara wand. This is especially true if you do touch ups.
Mascara usually has a shelf life of around 6 months, though it's best to check for the open container symbol on your product to check exactly when it will go off. It's also possible that the mascara will expire before that 6 month window. Make sure to chuck it and buy another if there are changes to consistency or smell.
A best practice to ensure you never use expired mascara would be to write down when you first opened a product and write down when it's time to buy another product.
Bonus tip: wiggle your mascara in the tube, don't pump it. The pumping action can cause mascara to dry out and exposes the wand to a lot of contaminants in the air.
Shop smarter
It can be tempting to hop aboard the hype train and grab whatever newest, hottest mascara everyone is talking about just to try it. Don't.
Opt for mascara that is free of fragrance, parabens and alcohol. Look for mascara that is also ophthalmologist and dermatologist tested. If you're a contact lens user, make sure the mascara is safe to use. While it doesn't guarantee you won't have a reaction, it minimizes the chances of it irritating your eyes or skin.
Beware of the testers
It might sound like a good idea to test out mascara at the department store or drugstore, but be weary. Even with a clean wand, an open and used mascara tube has been exposed to air and other people. It's also difficult to tell how long it was left out or when the formula will go off.
Patch test mascara
Patch test, patch test, patch test! I can't stress this enough. Hold off from taking your mascara for a spin until you know it won't cause you a reaction.
Any beauty product, whether you have sensitive skin or not, has the potential to cause an allergy or irritation. With a skin product, you would patch test somewhere inconspicuous like the inside of your wrist or the back of your ear. Testing mascara is a bit tricky but still possible. You can patch test on one eye, on the outer lashes or the tips of your lashes.
Leave it for a few hours or, if you're extra cautious, test it out for a few days. Check to see if you get any sort of sensitivity to the product. If you come up with nothing, feel free to apply your mascara with gusto!
Practice safe application
It may be tempting to go all the way into the lash line with your mascara, but that opens up the opportunity for more irritation. Mascara so close to the lash line can get into your waterline and into your eyes.
Try to start at the root, not too close to the lash line and go all the way to the tips.
Rethink doing your under eye lashes. Lower lashes are tricky to work with and it can be easy to hit the waterline and increase eye irritation.
Curl and do all other eye makeup before applying mascara. Not only will it yield a cleaner eye look but it will minimize any irritation from your mascara.
And practice basic mascara rules: don't share your mascara, even if you'll be switching wands; refrain from using mascara or any eye product when the eye area shows signs of irritation; and don't apply mascara in transit. It seems so basic, but accidents happen with the absence of common sense.
Avoid irritating your eyes
Once you're wearing mascara, don't touch your eyes. For some it's common sense; for others it's second nature to rub their eyes. If you already have sensitive eyes, wean yourself off this bad habit. Not only will you save yourself from any irritation, you'll also save yourself from wrinkles and damage to the eye area down the road and prevent raccoon eyes in the present.
What's the Best Way to Remove Mascara?
The eye area is generally a place where you should tread lightly because the skin is so thin.
If you have sensitive eyes, the most important things to remember is to thoroughly take off all traces of mascara and to do it gently.
You can soak cotton pads with makeup remover or micellar water and apply to eyes for a short time. Do not rub your eyes roughly with the pad, that will cause some of the cotton to break apart and could irritate your eye area. Gently glide the pad down and over the lashes, as well as under, until all traces of mascara are removed.
You can also use an oil remover with or without cotton pads. There are many options, including the DIY route. If you practice the oil cleansing method, good options for makeup removal are coconut oil, sweet almond oil, and jojoba oil. As always patch test beforehand. Gently use the tips of your fingers to rub the mascara off.
Look for the same things when shopping for a makeup remover: hypoallergenic, ophthalmologist and dermatologist tested.