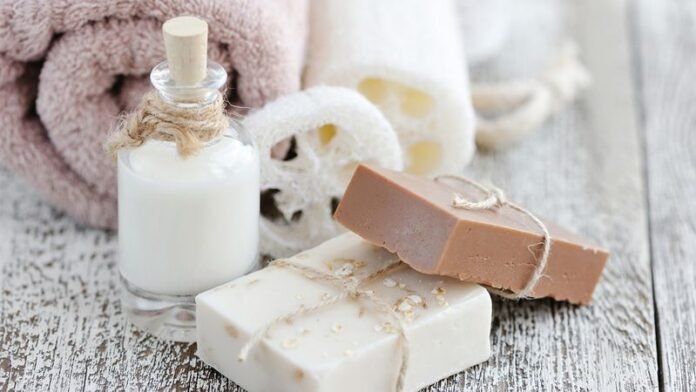 10 Hypoallergenic Soap For Sensitive Skin
Having sensitive skin can range from slight irritations to more severe dry skin that needs consistent attention. When it comes to soap, it is essential to use products that are pure, have a short list of ingredients, and hypoallergenic. The term hypoallergenic is similar to the term natural. It is hard to nail down exactly what it means or what determines a type of product that is considered hypoallergenic. However, it is a broad term that essentially means that the product is less likely to cause a skin irritation. The ingredients are more sensitive skin friendly, they aren't as drying and harsh, and will not cause delicate skin to become more dry and uncomfortable. While a soap is hypoallergenic, it should still leave the body feeling clean and not overly dry. It's important to try out a few different brands to find out which works best for your type of sensitive skin. While there are seemingly endless brands on the market today, there are a few that stand above the rest.
1
What Is a Hypoallergenic Soap?
For most hypoallergenic cleansing products, they will lack ingredients like synthetic fragrances, detergents, soaping agents, and other harsh chemicals that can truly damage sensitive skin. Hypoallergenic soap is soap that contains natural ingredients and lacks the ingredients that are typically harsh on the skin. While the exact ingredients can vary by brand, this typically means that there will not be any synthetic fragrances, detergents, soaping agents, and harsh chemicals. Hypoallergenicsoap may work better for sensitive skin that is dry while not be as great for sensitive skin that deals with constant break outs. It is important to note that the term hypoallergenic is not regulated by the FDA. This means that brands do not have to adhere to particular guidelines in order to label their products as hypoallergenic. When purchasing a soap for sensitive skin, read through the ingredients and keep an eye out for soaps that contain too many ingredients, unnatural products, harsh chemicals, dyes, and synthetic fragrances. That will be clear sign that it is not truly hypoallergenic.
2
How to Choose the Right Hypoallergenic Soap for Your Skin Type
All sensitive skin can be different. Your sensitive skin can be dry, flaky, oily, or itchy. It depends on your skin type. This will also determine the type of sensitive skin soap that you will need. A soap designed for oily skin is not going to be beneficial to a person with eczema. For oily skin, you should use soaps that don't suck all of the moisture out of your skin but rather balances the oil in your skin. Soaps that are antibacterial, antifungal, and anti-inflammatory are best to control the amount of oil your body releases. For dry skin, you want to choose body soap that has a balance of natural moisturizers and cleaning products. It is essential that those soaps for dry skin don't have extra drying chemical agents like sulfates.
3
Puracy Natural Body Wash, Sulfate-Free Bath and Shower Gel
A lovely scented body wash that is created by doctors is a dream for people that suffer with dealing with sensitive skin. The Puracy Natural Body Wash is a coconut cleanser that delivers a satisfyingly delicious foam without the drying chemicals that are terrible for skin. The product has a clinical grade moisturizer which is great if you suffer from dry skin or eczema. The scent is a natural and unique blend of citrus and sea salt. It's not overpowering or harsh for sensitive skin. Sensitive skin reacts terribly to chemicals like sulfates and parabens. The Puracy Natural Body Wash is free of these type of ingredients. It is a clinical grade formula which makes it perfect for anyone that has sensitive skin whether it's oily or dry. It's non toxic, hypoallergenic, vegan, as well as biodegradable. Since the product is a clean, chemical free product; it foams up and rinses off clean without any residue. Unlike many free and clear soaps, the Puracy Natural Body Wash smells great and actually cleans the skin by removing impurities. This ensures that the skin will be left moisturized and clean feeling. This product is a dream for sensitive skin.
4
Fragrance-Free Soap for Sensitive Skin
The best way to tell if a soap is good for your sensitive, delicate skin is if it says that it is ok to use on children. Young kids and babies have skin that is very delicate so if a soap that claims to be hypoallergenic is safe for babies, it is probably good for sensitive adult skin. The Yellow Bird Fragrance Free Bar Soap is hypoallergenic and can be used for everyone in the family from the youngest member to the eldest. The mild soap is free of chemicals which means that it won't leave your sensitive skin feeling overly dry. The bar of soap is also free of synthetic dyes and synthetic fragrances which limits the possibility of skin irritation. When it comes to free and clear soaps, they can often times leave the skin feeling a bit dry since there aren't many added products. However, The Yellow Bird soap leaves the skin feeling soft and supple. The bar is a blend of natural, organic plant oils and the intensely moisturizing shea butter. After you cleanse your skin, it is not dry or irritated. The company makes the soap in small batches and use a cold press method for all of the ingredients. This means that all of the nutrients of the ingredients are reserved for the most effective end product.
5
Cetaphil Gentle Cleansing Bar, Hypoallergenic
One of the most trusted brand amongst those with sensitive skin, Cetaphil has proven that it is the go to brand for hypoallergenic cleansing products. The reason that this brand is so trusted is because it has proven to be a brand that utilizes simplistic ingredients that help soothe and cleanse the skin. The Cetaphil Gentle Cleansing Bar is free of any synthetic ingredients which makes it great for sensitive skin. There's less of a chance that your sensitive skin will have a bad reaction. The fragrance free bar can be used on the entire body including the face. Your body will not be left feeling dry and cracked. The company as a whole is dedicated to contributing to the dermatology community and has been recognized for their contributions time and time again. The original product was created by dermatologist that know what sensitive skin needs. This mean that their products truly help and aid in cleansing and maintaining the health of sensitive skin. The cleansing bar cleans the skin without drying or irritating it. Your sensitive skin will be left feeling smooth, moisturized, and soft.
6
Neem Soap (Neem Tulsi Bar Soap) with Aloe Vera Extracts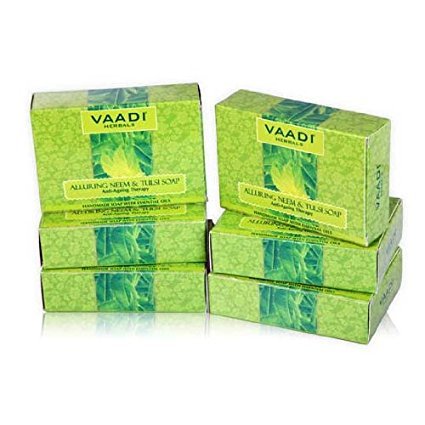 Some of the best skin products for sensitive skin come straight from nature. The Neem Soap Bar takes the best that nature has to offer and combines it into a soothing and nourishing cleansing bar that is perfect for people with sensitive skin. To start, the bar is free of the harsh chemicals that are typically found in body washes and cleansing bars. This means there are no synthetic dyes or fragrances. The bar does not include parabens or sulfates. There are no drying detergents either. When you purchase the Neem Soap bar for your sensitive skin, you are purchasing a potent blend of natural oils that are designed by nature to heal and soothe the skin. The neem and holy basil in the soap improves the skin's natural elasticity that can be lost over time due to aging. Both ingredients also help to boost the collagen of the skin for a younger, smoother appearance. Both ingredients are also antiseptic and antibacterial which are great for daily cleansing. The bar also includes tea tree oil, aloe vera, and vitamin E oil. The bar is a wonderful option for people that have sensitive skin that they want to cleanse and protect while keeping it looking young and healthy at any age.
7
Dove Beauty Bar, Gentle Exfoliating
Dove is a brand of soap that has earned the trust of millions of people over the decades. They have proven that they use quality ingredients and when they promise to nourish your skin, they certainly will. This goes for their entire product line including Dove Beauty Bar, Gentle Exfoliating. Many people may assume that delicate sensitive skin does not have to be exfoliated. However, that is untrue. Light exfoliation helps to shed stubborn dead skin to reveal a healthier, brighter complexion underneath for all skin types. The Dove Beauty Bar has small exfoliating beads that gently sloughs off dead skin. The bar contains mild cleansers and a quarter moisturizing cream so your skin is not left feeling overly dry after using it. The Dove Beauty Bar is not just loved by thousands and thousands of people. It is also dermatologist tested and approved to be a wonderful option for naturally sensitive skin. It cleanses, gently, while also moisturizing without leaving an artificially slick film behind.
8
Antifungal Soap with Tea Tree Oil & Neem
Just because you have sensitive skin doesn't mean that you don't want a body wash that actually cleans the skin. It can seem like soaps that actually leave your body feeling clean also leave your skin irritated, itchy, and inflamed. Oleavine Antifungal Soap is the perfect soap for sensitive skin that needs to be cleaned. The body wash is 100% natural and uses the natural antifungal properties of tea tree oil and neem oil. Since this body wash has amazing cleaning power for sensitive skin, it is a great product for people that play sports, have a job that includes them getting dirty, or have annoying body odor that is hard to tame with regular soap. The Oleavine soap is free of harsh chemicals, detergents, and ingredients that can irritate sensitive, delicate skin. The product is a concentrated formula that creates a rich, satisfying lathering. Since it is a concentrated formula, a little bit of the product does the job. There's no need to use more than a quarter sized amount each time. The amazing natural ingredients like tea tree oil and neem oil and vitamin E oil make this product the first line of defense against odor and irritation causing bacteria without washing away the important nutrients in the more.
9
Defense Soap 4 Ounce Bar
Even though you have sensitive skin, it is still important to use cleansing products that actually clean the skin. This means using soap that will wash away dirt, grime, and the bacteria that can cause irritation and inflammation. Defense Soap Bars wash away the grime from the day to leave skin feeling clean and healthy. Defense Soap does not use harsh chemicals to achieve wonderful results which is essential for sensitive skin. The cleansing bar combines natural tea tree oil and eucalyptus oil to kill odor causing bacteria instead of harsh chemicals that can harm sensitive skin. The eucalyptus oil also leaves the skin with an attractive, fresh scent without using artificial fragrances. The natural ingredients and absence of harsh chemicals makes the cleansing bar perfect for sensitive skin that reacts poorly to typical soaps. The thick, rich lather ensures that the soap penetrates into the pores for the ultimate clean feeling. The skin naturally creates the oil sebum, which is essential for healthy skin. Instead of rinsing away all of the oil on the skin, good and bad, the Defense Soap Bar helps to balance sebum for naturally healthy skin. This means that the soap helps to build more beautiful skin over time.
10
Tom's of Maine Natural Moisturizing Bar Sensitive with Chamomile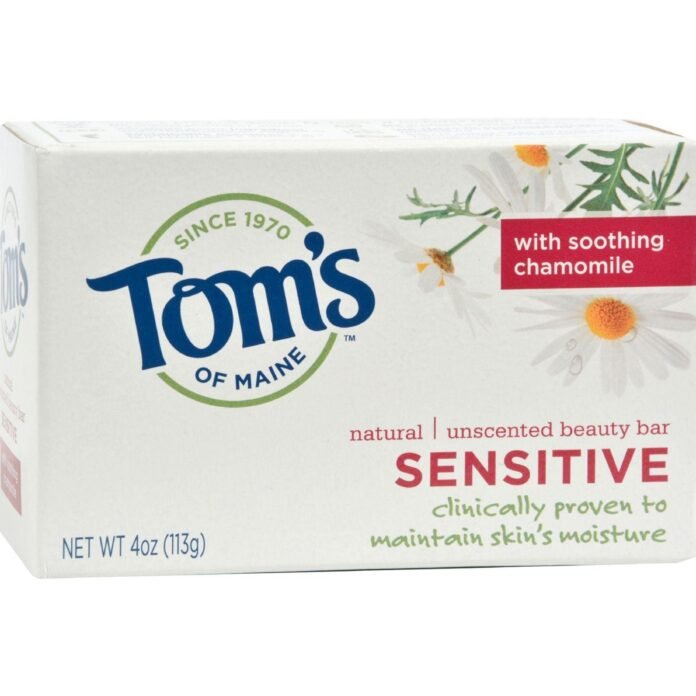 For some people with sensitive skin, a soothing soap that calms irritation and prevents future irritation is key. Sensitive skin is an umbrella term that can mean a wide array of things. This includes dry, irritated skin that needs to be soothed and nourished. Tom's of Maine Natural Moisturizing Bar Sensitive with Chamomile is the ideal soap for anyone dealing with sensitive skin that is excessively dry. Unfortunately, dry skin can feel like a lifetime battle that just isn't getting better. The first step in caring for dry, sensitive skin is cleansing the skin that will help soothe and moisturize it without added chemicals and synthetic products. The bar has a blend of soothing ingredients like chamomile, moisturizing olive oil, and healing vitamin E oil. The hypoallergenic bar is unscented which makes it suitable for even the most sensitive skin types. Tom's of Maine is a trusted brand that creates products that caters to those with sensitive skin. Their dedication to creating natural products is back by dermatologist testing. This product has been clinically tested and proven to soothe sensitive skin and leave it feeling moisturized.
11
Dead Sea Mud Soap Bar 100% Organic & Natural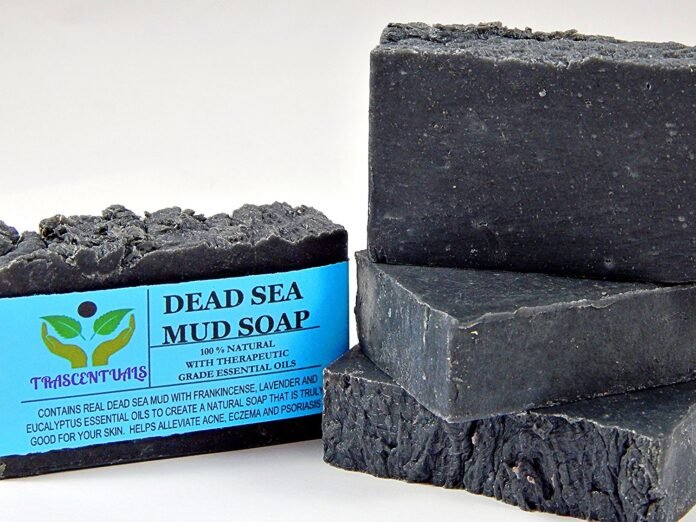 Some of the best products for the body come directly from the Earth. Aspen Kay is the brand that creates nature's most nourishing soap bar that is wonderful for sensitive skin. The Dead Sea Mud Soap Bar is completely organic and natural. Each bar is handmade from activated charcoal and clinical grade essential oils. It is totally free of the chemicals and preservatives that are rough on sensitive skin. It is gentle enough to be used on the entire body, including the delicate skin on your face. The star ingredient in this product is, without a doubt, the dead sea mineral from the waters in Israel. The Dead Sea in Israel has long been known for it's healing properties and millions travel to float in the water to absorb every ounce of healing. This soap has attempted to capture a piece of that miracle and deliver it in a product that can be used at home. The minerals in the Dead Sea mud draws out toxins, deep seated impurities and impurities that can lie deep in the pores. Your skin will feel soft and smooth after every use. The bar has fine grains mixed in which help to gently slough off dead skin cells on the surface. This is wonderful for sensitive dry skin as the bright, soft skin can sometimes be trapped under the flakes of dry skin on the surface. The naturally moisturizing Vitamin E oil and castor oil leave your skin feeling nourished and moisturized.
12
Dr. Bronner's Pure-Castile Liquid Soap Peppermint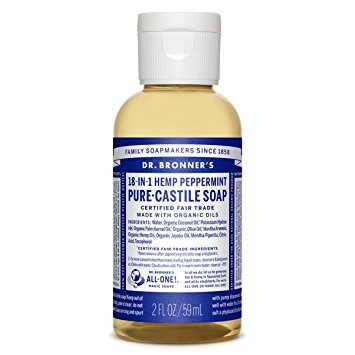 One of the most well known natural soaps on the market today, Dr. Bronner's Pure-Castile Liquid Soap is the premier soap for sensitive skin. It is such a natural and versatile soap that it can be used on the entire body from the hair to the skin. The soap is a concentrated formula which means a little goes a long way. The liquid soap is certified organic and all of the ingredients are certified fair trade. There are absolutely no added synthetic chemicals added and the ingredient list is fairly simple. The base is pure castile soap with a hint of peppermint. The peppermint leaves the skin with a tingly, pleasant feeling. The liquid soap offers a rich lather that is satisfying and luxurious. The certified organic and vegan ingredients leave sensitive skin feeling smooth, nourished, and healthy.
13
Why Can Soap Irritate Your Skin?
One of the biggest complaints when it comes to soap irritating skin is the excessive dryness that can happen. Depending on the soap, some of the chemicals found in the product can cause the skin to become very dry and cracked which is uncomfortable. Other issues that can happen with soap is allergic skin reactions ranging from rashes, redness, and itchiness. This can be caused by a single ingredient in the product or several ingredients working together. A major cause are the synthetic dyes and fragrances used in these products. If you have naturally sensitive skin, there is a chance that your skin will react negatively to the synthetic ingredients. There are also soaping agents that help to create the bubbles that we are used to seeing in soap. However, that is created using sulfates which are not great for the skin or for hair but are often used in both products.
14
How to Check if You Are Allergic to Soap?
If you are living with sensitive skin, then you already know the struggle that comes with that. Finding the right soaps, lotions, and makeup can seem like an impossible feat. Before purchasing a new brand, do your research and check what other customers are saying in the reviews about the product. Keep an eye out for keywords like sensitive skin and skin reactions when reading reviews. Then, read the ingredients that are in the product. Pay attention to chemicals, synthetic dyes and fragrances, and sulfates. These are ingredients that can damage sensitive skin. Once you have chosen your soap, do a patch test by trying out the soap on a small area of skin like on your arm. If there has not been a reaction after a few hours, the soap is likely not going to cause a reaction.
15
What to Do if You Have a Reaction?
Even when you've made every effort to ensure that your soap is hypoallergenic and not going to cause a negative reaction to your skin, there is still a chance that there might be. If you notice a skin rash, itchiness, or excessive dryness, stop using the soap immediately. Wash your bed sheets to ensure the soap has not transferred to your bed. Wash your body with warm water and apply a cortisone cream to assist with the itch.
16
What Soap Ingredients You Should Avoid if You Have Sensitive Skin
If you are out shopping for a soap to use on your sensitive skin, it is imperative that you read the ingredients on the product. This will tell you if the soap is likely to cause a skin reaction. The ingredients that you should avoid include:
Sulfates
Parabens
Synthetic Frangrance
Synthetic Dyes
Triclosan
If these ingredients are listed on the back of your body soap, you should avoid the product.