Best Hypoallergenic Deodorant for Men and Women
For the most part, a large majority of common, big brand deodorants contain aluminum. With that being said, aluminum is terrible for the body and absorbs into the body through the skin when deodorants containing this ingredient are used. Aluminum is a neurotoxin that is linked to causing breast cancer as well as promoting Alzheimer's disease. When products containing aluminum are used over long periods of time, there is a higher risk of causing health issues. There are other harmful ingredients in commonly used deodorants including parabens, synthetic fragrances, and other chemicals. While it can feel like chemical deodorants are the only options out there when it comes to feeling fresh and clean. However, there are many other options that will eliminate the odor without the harsh chemicals that can cause long term issues. Read on our recommendations for the best hypoallergenic deodorants for sensitive skin for men and women.
1
What Is a Hypoallergenic deodorant?
Deodorants don't have to include harmful ingredients in order to be effective. Hypoallergenic deodorants are products that are made without chemicals and harmful ingredients. They still offer the fresh feeling and delightful scent without the aluminum and parabens that can cause terrible irritation and long term health issues. Hypoallergenic deodorants work by eliminating the odor causing bacteria by employing natural ingredients like essential oils. Essential oils are less likely to cause rashes and irritation. Many find that hypoallergenic deodorants work just as well as conventional options but are a lot more gentle on their sensitive.
2
Causes of an Allergy and Why Can deodorant Irritate Your Skin?
The skin under the arm is very delicate and can be easily irritated when it comes in contact with harsh chemicals over a prolonged period. Many people that use conventional deodorants and antiperspirants have reported irritation under the arm including rashes, itchiness, and tenderness. The cause of this is multidimensional. For starters, the skin under the arm is porous and delicate which makes susceptible to irritation. Conventional deodorants contain chemicals and quite harsh ingredients that are supposed to kill odor causing bacteria but can actually irritate the delicate skin in the process. The underarm is also a warm, moist place due to sweat which is the perfect environment for bacteria to thrive. This can propel the irritation of deodorant as well. Lastly, the chemical, synthetic fragrances that are used in deodorants to create the perfect fresh scent can irritate the skin under the arm especially for a person that has particularly sensitive skin.
3
What to Do if You Have a Reaction?
If you use a deodorant and have a reaction, it is important to first cease any further use of the deodorant. Wash away any product that may be on your skin as well as any clothing that may have residue on it. Gently pat the area dry and apply a soothing cream or topical over the counter treatment to heal the rash or irritation. You can also apply aloe vera gel for an added soothing effect. Before tossing the deodorant that caused the irritation, read the ingredients to narrow down the reason it caused a reaction. If it is packed full of chemicals, there's a good bet that natural, hypoallergenic options are likely better for your skin type.
Best Hypoallergenic Deodorant for Men
4
CRYSTAL BODY DEODORANT Stick for Men – Unscented
A pioneer in the natural, hypoallergenic deodorant industry, Crystal Body Deodorant Stick  has a proven record for being effective and gentle on the delicate skin under the arm. The Crystal Body Deodorant is a twist up stick that is made of mineral salt. The mineral salt deodorant simply has to be moistened before each use and can be applied as normal. It is lightly scented for a masculine touch. There is absolutely no chemicals, parabens, aluminum, or synthetic fragrances or dyes. The product is made entirely of mineral salt which means it is as natural as it can be. It is a deodorant created by nature but crafted for man. When the deodorant is used properly, it can last for up to a year. The way that the deodorant works is quite simple. The mineral salt creates a barrier against the bacteria that causes odor. The Crystal Body Deodorant provides the odor prevention that everyone looks for in a deodorant. It is a deodorant that is recommended by dermatologists as well as cancer treatment centers. The great thing about this deodorant is that is can be used for a long period of time and is made of a simple ingredient. This means that it is unlikely to cause any irritation, even for those that have sensitive skin.
5
Deodorant Stones of America: Thai Crystal Deodorant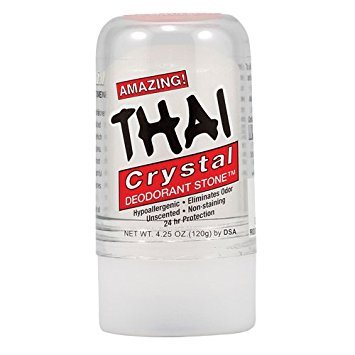 Deodorant comes in all shapes and colors. When it comes to natural deodorants for sensitive skin, they can look nothing like your run of the mill deodorants. The Thai Crystal Deodorant looks more like a natural gem stone than an odor killing deodorant. However, this natural product helps to eliminate odor causing bacteria without the harsh ingredients that can cause irritation and rashes. The deodorant stone is created from mineral salt and that's about it. The crystallized mineral salts kill bacteria that cause the odor under your arms. It is free of chemicals like aluminum and parabens. There are no synthetic fragrances or dyes as the product is clear and unscented. The deodorant crystal provides 24 hour protection so odor creeping up on you is simply not an issue. Since there are no synthetic dyes or materials, the issue of staining your clothes with white residue is essentially non-existent. It is a simple product that does what it's supposed to do. The crystal is not likely to cause irritation since it's free of chemicals. It won't stain your clothes after each use. There is not scent which means it won't interfere with your other perfume smells that you like. It may be jarring when you first use it as it's not like your typical deodorant but it is effective and gentle which is important when it comes to deodorant.
6
Schmidt's Deodorant Stick, Cedarwood + Juniper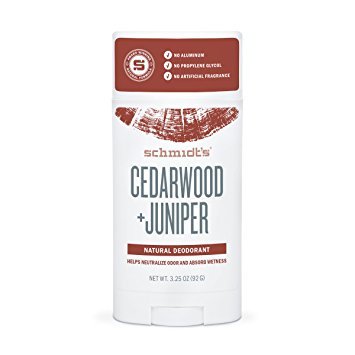 Having a natural deodorant that is safe to use on sensitive skin doesn't mean that it has to be unscented. Schmidt's Deodorant Stick is an all natural deodorant that utilizes natural ingredients to create a warm, alluring scent that men love. Unlike many other natural deodorants on the market, Schmidt prides itself creating scents that consumers love without the harsh, synthetic ingredients. The product is created from premium ingredients derived from minerals that are designed to eliminate odor causing bacteria. The plant based powders help to absorb any wetness without the use of harsh chemicals like aluminum. A little goes a long way when it comes to this product. If it's overused, you will notice a sticky residue. However, after a couple of tries, you will get used to the amount needed for an effective application. There won't be any sticky residue or staining on clothes. The Schmidt brand has managed to create a natural product with health focused customers in mind that is actually great smelling. It totally negates the stereotypes of natural products not smelling great and being effective.
7
ARM & HAMMER Essentials Natural Deodorant Fresh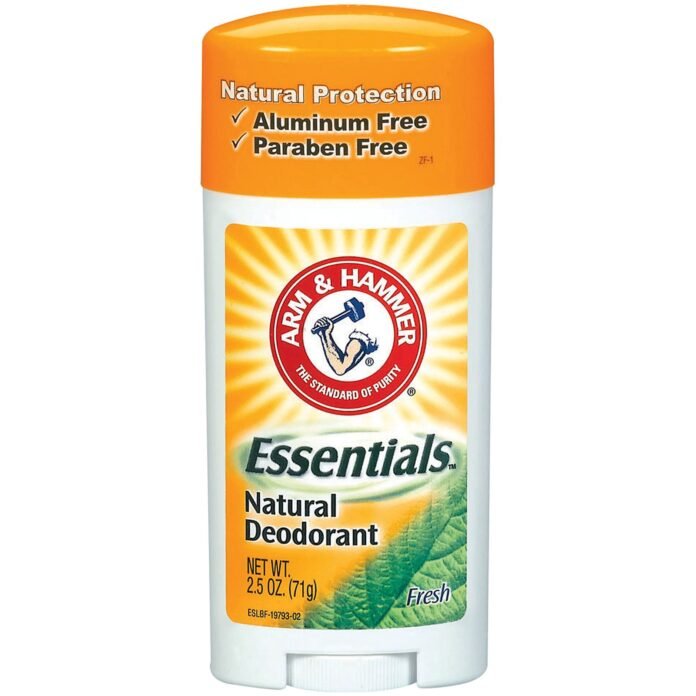 When it comes to creating a product that customers can trust, it is up to the brand to create that relationship. Arm & Hammer is one of those brands that customers trust to deliver natural products for people with sensitive skin. Not only have they been delivering excellent products for years, they cater to customers with sensitive skin. The sensitive skin deodorant is no different. Arm & Hammer Essentials Natural Deodorant is free of any parabens, chemicals, or aluminum. They employ natural ingredients to create a fresh feeling under the arms that lasts all day long. Like many of Arm & Hammer products that are created for sensitive skin, the natural deodorant has plant based ingredients as well as baking soda. The combination creates an odor absorbing blend that is all natural and harmless. The fresh scent is not too strong for daily use. The greatest feature of this deodorant is that it is a trusted brand that you know will work without causing irritation, itchiness, or a rash.
8
PRIMAL PIT PASTE All Natural Unscented Deodorant
If you have incredibly sensitive skin and are completely health conscious, then Primal Pit Paste is definitely a product that will suit all of your needs. It is nothing like a traditional deodorant from the packaging to the ingredients. You may be kind of skeptical as it is unlike any traditional deodorant on the market. However, Primal Pit Paste has a proven formula that actually works. This deodorant is packaged in a jar and can be applied using a small metal spatula that comes inside of the product. The paste works by neutralizing the bacteria that causes odor. The unscented version allows for people that wear cologne and perfumes to let that stand out rather than the scent of their deodorant. Looking at the ingredients list and will see nothing but the best and most effective ingredients. From moisturizing shea butter to moisture absorbing arrowroot and baking soda, the ingredients are the foundation to this wonderful natural deodorant.The product utilizes Candelilla wax for heat and temperature regulation which helps with excessive sweating. The product is made from all of the best ingredients and free of chemicals that are found in traditional deodorants. Ingredients like aluminum, parabens, and even gluten are excluded from the paste. It is wonderful for people that have ultra sensitive skin and don't want to risk irritation by deodorant.
Best Hypoallergenic Deodorant for Women
9
CRYSTAL BODY DEODORANT Roll-On
Crystal roll on body deodorant is one of the first companies in the hypoallergenic, natural deodorant industries. They are a trusted brand that uses simple ingredients to create an amazing product that actually works. You can be assured that there are no parabens, aluminum, or synthetic dyes or fragrances that are likely to cause irritation. Unlike many traditional roll on deodorants, the Crystal Body Deodorant doesn't leave a residue behind. The way that the product works is simple. It creates an invisible barrier against the bacteria that causes odor. It is hypoallergenic which means it is great for sensitive skin that reacts poorly to chemical based traditional deodorants on the market today. The easy to use roll on feature makes application simple and easy. Aside from the brand's trustworthy history of providing natural products that cater to those with sensitive skin, this roll on deodorant is dermatologist tested and approved to be totally natural and safe for sensitive skin. This particular option is unscented which is nice for women that want to wear scented lotions or other fragrances without the interference of scented deodorant. If you are someone that does not like wearing other scents, an unscented option might not be favorable. Otherwise, this is an outstanding product that works lovely with sensitive skin while also being highly effective.
10
Primal Pit Paste All Natural Orange Creamsicle Deodorant
Who doesn't love smelling like citrus and vanilla? The Primal Pit Paste is an all natural, hypoallergenic deodorant that smells like a warm summer's day in the park. This particular product comes in a convenient to go stick for easy, quick application at home and on the road. Firstly, Primal Pit Paste creates deodorants that are made from all natural ingredients from the scents to the actual foundation of the products. The way that the product works is simple. It neutralizes the bacteria responsible for causing odor throughout the day. It lasts all day long without needing to reapply. It is the perfect natural deodorant for work and play. There's an endless list of natural ingredients included in this product that work together to create an outstanding blend to ward off order without irritating the delicate skin under the arm. From moisturizing shea butter to moisture wicking arrowroot, the Primal Pit Paste has an all star list that truly works. The amazing thing about this product and the company that creates it is that everything has thought put into it. They use only the highest quality natural ingredients to ensure that your skin is receiving the best treatment possible. The tubes that the product comes in is even BPA free because they believe in eliminating all chemicals from start to finish. For many beauty and health products that include a scent, synthetic fragrances are used to create long lasting aromas. Primal Pit Paste uses only natural essential oils to create the sweet and lovely citrus vanilla aroma that isn't too overwhelming and just enough to be pleasant all day long.
11
Weleda Wild Rose Deodorant
At first sight, the Weleda Deodorant actually looks like a perfume body spray. It's packaged in a beautiful spray bottle unlike most deodorants. Instead of a solid stick or aerosol spray, it is a liquid spritz that you spray under your arm. Looks can be quite deceiving. The Weleda Wild Rose Deodorant is made of a blend of essential oils that help to neutralize the bacteria that causes the unwanted body odor. During the detoxification process that your body normally goes through, your glands under your arms produce sweat and bacteria that create an odor that no one wants. The Weleda Wild Rose Deodorant helps to neutralize that bacteria that is naturally created during that process so that the body odor scent is replaced by a light but pleasant floral blend scent that you will love. The star ingredients in this product are the organic rosehip leaf and rose leaf extract. These two ingredients have naturally astringent properties that help to refresh and tone the skin under the arm while also smelling fresh as a flower. Unlike deodorants that are full of unnatural chemicals, the Weleda brand of deodorant sprays will not disrupt the body's natural detox process in order to eliminate odor. It will simply add to the process and neutralize the odor. For those with sensitive skin, the product contains organic ingredients and lacks chemicals like aluminum salts and parabens that are the culprits when it comes to skin irritations under the arm. The ingredients actually help soften and tone the skin under the arm throughout regular use. The only downside is that the product is a rather wet spray which may take some getting used to. Allowing your underarm to dry after each use, for a few seconds, will help with any moist feeling.
12
Green Tidings Organic All Natural Deodorant, Lavender
Having very sensitive skin can mean that you have to stay away from all chemicals and just about everything that is likely to cause an allergic reaction. This may include gluten, animal byproducts, petroleum, and other toxins usually found in deodorants like aluminum and parabens. The Green Tidings Organic All Natural Deodorant in Lavender is the product for you. It is free of any and all harmful ingredients that are likely to cause skin irritations or rashes. It is even vegan! The product is created using an all natural process and includes all natural ingredients. For starters, the deodorant is created in a solar powered facility and is packaged in a BPA free tube. The attention to detail from start to finish is what makes this a trustworthy stand out product that you know will treat your sensitive skin kind. The product employs natures natural deodorizers like coconut oil, shea butter, and an old time favorite; baking soda. These ingredients and more combined create an amazing product that actually works. It is important to note that this product is not going to prevent your body from detoxing through the process of producing sweat. It is a natural and very necessary process. Traditional deodorants may help keep you dry by clogging your pores under your arms with harmful chemicals, stopping the natural detox process and causing your body to go into overdrive and sweat more. This product will not do that and you may find that, over time, your body will naturally regulate the detox process and not produce as much sweat all on it's own once the pores are able to breathe.
13
Nani Naturals Lavender Scent Truly Organic Natural Deodorant For Women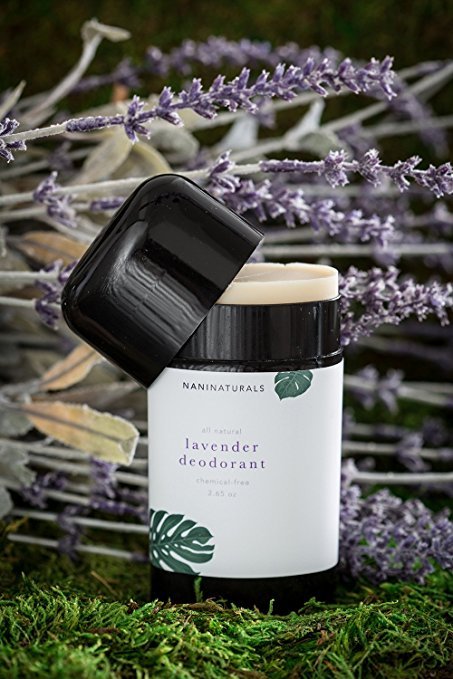 Most women want the same thing in their deodorants. That includes all day odor protection, long lasting product, and a stain free product. Nani Naturals Lavender Scent Organic Deodorant provides that through a blend of essential oils and natural ingredients. The product is 100% vegan and completely safe for skin, even for those with the most sensitive underarms. They understand that, even with sensitive skin, everyone wants a product that is going to keep the odor away all day long. This product does that but also eliminates the use of chemicals that cause irritation and rashes. Nani Naturals understand how important smelling good is to women and put this product through a tough workout and gym routine to ensure that it holds up against the sweatiest of moments. The lavender scent is sweet enough to be a nice added layer of fragrance but not overpowering to the point of ruining the smell of your favorite perfumes. All of the ingredients in this product are organic and totally natural. From the moisturizing shea butter to the odor killing coconut oil, every ingredient has been thoughtfully included to create a product that caters to sensitive skin. The product goes on to the skin clear so you don't have to worry about staining your favorite clothes. It is a wonderful product for sensitive skin that is actually effective.