[td_block_ad_box spot_title="Advertisement" spot_id="custom_ad_1″]
40 Stylish and Cute Outfits For School
Looking for cute outfit ideas for school? School is a time to explore, reinvent, and express yourself through fashion! From casual hoodies to chic midi skirts, Take a look at these fab and cute school outfits in the photos below and get ideas and inspiration for your own outfits!
[td_block_ad_box spot_title="Advertisement" spot_id="custom_ad_5″]
Brilliant Blazers
Longline blazers are one of our favorite ways of dressing up a casual outfit. Slip it on over your favorite sweater and some ripped jeans, and look like you made an extra effort that day! There is nothing wrong with looking chic for school, as it makes you feel confident and ready to face anything the day will bring. Add your trusty tan boots to elongate those legs!
Cool And Casual
You didn't hear your alarm, your bus is in 20 minutes and you have absolutely no time to get ready. It doesn't seem likely, but you can look your best even on those bad days. Grab your slouchiest sweater, cropped jeans, and of course sneakers and you will get there on time. Plus, no one will realize you woke up late!
Smart Coats
Coats are a great way of dressing up an otherwise laid-back outfit. We love structured coats that make you look like you mean business! Right now, Missguided is the place to go to get gorgeous coats similar to this one. Everyone will be commenting on your impeccable style!
Hoodies Outfit for School
Hoodies aren't just for gym class y'know! They are a comfy alternative for those icy temperatures. After the festive season, and after gorging on all that chocolate, this is ideal! You can never go wrong with a hoodie and ripped jeans combo. Keep your accessories to a minimum and keep the focus on that cute hoodie.
Cigarette Pants Outfit
Bored of your jeans? Want to try something new? Get out there and find yourself some cigarette pants, they instantly make a casual outfit chic and cool and are amazingly comfy. They arrive just above your ankle, showing off just the right amount of skin. With sneakers, this will make you look effortlessly cool and they can be worn all-year round!
Marvelous Midis
You might feel underdressed for school in a midi, but don't hide it in the back of your closet just yet. Midi dresses aren't just for summer, with a long cardie, you can definitely wear it to school. Wear this with sneakers, or even some Doc Martens in the winter. We would add a black scarf to finish off this look.
Goodie Two-Shoes
Layering is a great way of staying warm and staying on trend. This look is super simple but looks very sophisticated, and though it can be worn with jeans, we love it with a skater skirt too! A cable-knit sweater is a winter must-have, so this is one of the things you will have to buy with that Christmas money.
Amazing A-Line Outfit
You have probably seen A-line skirts everywhere, but that doesn't mean you shouldn't get one. They cinch you in at the waist and flatter every figure. On slimmer girls, they create curves. What more could you want from a skirt? We love a good fake-suede skirt, you can get them in tan, burgundy or even khaki! Add a basic black top and you're good to go!
Perfect In Pink Outfit
It is difficult at times to wear pink without looking like a Barbie doll. The secret is to add other splashes of color too. Grey and pink look lush together and don't make you look like you are 7 years old again. We want this cardie for our wardrobe! On Asos, they have all sorts of cardies for your pastel pink needs!
Grey Heaven Outfit
We are all guilty of wearing too much black, but nothing is wrong with that! If you want to make a slight change to your wardrobe without shocking your system, go for gray. An oversized gray sweater and ripped jeans are one of our fave go-to outfits. You can add a few more accessories to this look, with a long necklace and a cute beanie. We love this oatmeal one!
Flattering Flats
The weather will be warming up, which means you can get your flats back out! You can wear brogues, or your moccasins with a casual outfit to make it look smarter. This is another way of wearing the shirt and sweater we discussed earlier. The checkered scarf adds the right finishing touch, and makes your outfit look more expensive that it actually was!
Peter Pan Collars
This outfit reminds us so much of Gossip Girl. You could definitely see Blair or Serena in something like this. If your style is preppy, then this is going to be your cup of tea! Peter Pan collars are still all the rage. Zara has brought some collared-dresses into their new collection in gray and black, so you girls can achieve this look.
Summer Chic Outfit for School
If you are lucky enough to live somewhere hot, then this outfit will look great for school. It is difficult to wear a summer dress without looking like you are heading for the beach, but with this cute denim jacket, you can definitely get away with this. The tousled beach waves are a simply gorgeous finishing touch!
Smart Dresser
We have all hummed and harred over that dress and whether it is appropriate for school. Let's be honest, 99% of us then chose not to wear it. Is it too short? Too low-cut? Well, girls, you can, in fact, wear that favorite dress of yours with a little bit of layering! Find a cute sweater to wear over it and it will tone down the outfit. Ta-dah!
Mini Skirt Success
Mini skirts and sweaters are one of our favorite outfits for their practicality and their style. This could look good with some curled hair and a beige long coat to keep you nice and warm. Add an oversized tan bag to stand out against the beige coat, and keep all your books in.
Basic Outfit For School Is Best
Nothing is wrong with wearing a basic tee and jeans. It will always look great no matter how the day started. We love the idea of adding a lace body underneath to add texture and a girly edge to the outfit. The color combination here is to die for!
Summer Shorts Outfit
When the weather gets colder, there is no need to throw out your summer shorts, add black tights and they are winter-proof. We love the red cardie and brogues, that add color to a basic look. This look is so achievable, you probably have something similar in your wardrobe.
Denim Jacket Joy
Here is another way of layering – your fave hoodie and a denim jacket. More to the point, we love this color combination right here. Pink and denim blue look so right together. This outfit is so simple yet is far from being boring, with pink sneakers to match. This shows you that hoodies don't need to look scruffy.
Boyfriend Jeans Outfit
If you are tired of your skinny jeans, then we have to tell you to try out our favorite alternative, boyfriend jeans! They are baggy, cozy, ripped and stylish, and give a sporty vibe to your outfit. Add some Adidas to embrace the tomboy look!
Ravishing Ruffles
Ruffles are everywhere right now, literally! There are some crazily ruffled tops out there, but if you want something a little more subtle, this denim top will do the trick! White jeans brighten up the ensemble and high-waisted ones are flattering on any body shape. You will look like a Hollywood star!
Biker Babe Outfit Look
A fake leather biker jacket is one of the must-have jackets for your wardrobe. It goes with your party dress, or with a basic top and jeans like here. The black sneakers change up the look and make it sportier, and the jacket is cropped so it shows off that waist of yours. This outfit suits anyone and is easy to pull off.
In The Nude
Nude colors are still in after the Kardashians got us hooked. They brighten up monochrome outfits and stand out on all skin colors. If you don't want to try full-on nude like Kim, then why not find a nude-colored waterfall cardigan? Just add it to your basic tee and jeans combo and voilà! Instant style in seconds! Add a cute choker for a 90s inspired twist and head into class your head held high!
Deeper Shade Of Blue
Navy blue is the ultimate winter shade. It isn't too daring and not too bright for those dingy winter days. Don't forget some patterned tights for this outfit to make it even girlies. For the best tights out there, we recommend Calzedonia. They have all sorts of patterns for every occasion.
Jumper Dress Outfit
The jumper dress is an instant winter hit. It doesn't need any effort and still makes you look hot! With the jumper dress, you should try knee-high socks or even boots, to show off just the right amount of skin. Get yourself a beanie to hide up those bad hair days and add an urban vibe to the look.
Dreamy Dress Outfit for School
Of course, you can always go for your fave dress and some cute boots. You can't put a foot wrong with this look. Accessorize to make the outfit go from bland to fab – as you can see here, the tan belt and bag, along with the long pendant necklace add much-needed detail into it. Hairstyle-wise, a messy bun or a high ponytail would look great with this casual look.
Casual and Bohemian
This long black maxi dress paired with a white kimono cardigan creates such a stunning look that is also super comfortable! Finish it off with a pair of summer sandals or comfortable wedges.
Tartan Outfit
Tartan or Plaid is a great staple for fall and there are so many great ways to wear it! Pair it with a simple white t-shirt, tuck it into a high waist boyfriend jeans and finish it off with a pair of matching sneakers.
Crazy For Khaki
This outfit is laid-back but still makes you look like the serious student you are. The touch of khaki will brighten up everybody's day including your own. This would be a good exam or interview outfit too, as the shirt is smart without being OTT!
Chilled Out Outfit
Everyone has to have a parka jacket, it just goes with everything. Here, it has been put together with some ripped jeans and a cute burgundy top. Yes, we know, we have a problem with ripped jeans, but you have to admit, you want them now too!
Burgundy Brilliance
Dr. Martens make you look badass, and even give this outfit a rocky edge. Plus, Burgundy is still very much in season, and we even recommend matching your lipstick for an all-over vamped-up look. NYX's shade Copenhagen is the one we'd chose to go with this outfit!
Loud And Lush
We are in love with the color of this sweater, it is fun and loud but toned down by the color of these gray jeans, it isn't too much for your classmates' eyes. Find yourself some sneakers to match, like Adidas' Stan Smiths in white and red, for a fun but serious outfit.
Cute and Cosy!
Blues whites and purples. This is the perfect clothing color combination!
All Black Outfit
Zoella recently showed us how to wear hoodies with oversized jackets and biker jackets, and we have been wanting to try the look out ever since! It is laid-back but so cool. Find yourself the ultimate fake leather jacket on Forever 21, they should have you covered!
Simple But Sophisticated
As we mentioned earlier, a dress can be given a huge lift with some simple accessories. The belt turns the dress from frumpy to gorgeous, and the heeled tan boots make your legs go on forever. This dress is from Esprit, but Dorothy Perkins have some pretty casual everyday dresses, perfect for school!
High Waisted Boyfriend Jeans Outfit
Another super cute high waisted boyfriend jeans outfit with a white cropped sweater and straw beach bag. Spice this look up with slide sandals or Allstars.
Pleather Skirt Outfit
We all have pleather skirts waiting in our closet to be taken out for a special occasion, but no more excuses girls! Yes, you heard, pleather skirts can be worn everyday! A basic tee doesn't make it a necessarily laid-back look but makes it edgy and cool. You could wear it with a nude coat and heels like here, or with a dark gray longline cardigan and sneakers.
Slip Ons Outfit
If you are not a fan of slip-on sneakers, then maybe we can convert you? These simple gray ones are comfy, practical, and stand out with this outfit. Asos have a range of slip-on shoes in a variety of colors, even pastel pink! An oversized jacket is what you need to go back to school with. Unfortunately, going back to school means waking up earlier, but you will fight the cold with this coat!
Checkered Delight
Tartan is a fun, original pattern you should at least try to wear! It doesn't have to look incredibly extravagant – we adore this outfit, with a simple denim shirt and necklace. A skirt is a cute and girly way of incorporating this pretty pattern into your wardrobe without necessarily going for the checkered shirt.
Fun Fuchsia Accessories
Fuchsia can be overpowering at times but worn with beige, it stands out and looks very smart. A blazer adds class to this outfit, whilst the jeans make the look a bit more laid-back and less strict. Fuchsia looks great on olive skin and darker skin tones too!
All Pink Outfit
We know what you're thinking, "Can I pull off all-pink?", the answer is yes you can! Pink cigarette trousers with a pink waistcoat are great for the summer, and of course, cigarette trousers are very smart! We love how this outfit looks sophisticated without being busy. Oasis have a similar waistcoat in pink, so check them out!
Black & White
Basic, but does the job, and has a Parisian vibe to it. A striped shirt and jeans will certainly impress your French teacher (and everybody else of course). Black and white is very flattering and is slimming, so this is an outfit that every girl should have!
Beige Beauty Outfit
We can't speak highly enough of beige! It will get you ready for spring and allows you to wear nude in a more subtle way. Dark blue jeans will look great with this color. Add a leopard print scarf to inject a bit of life into the outfit!
Rompers
Rompers can be worn all year round, so why not try one for the first day back? If you live in a warm country, then, of course, a romper and sneakers will be perfect! However, if it will still be winter where you are, tights and knee-high boots are how you can make your romper work in fall and winter. The knee-high boots make your romper even more glam!
Casual Black and White
Black (and ripped) skinny jeans with a white top is always a classic color combination! A great match for a casual yet sophisticated look. Pair it with white sneakers and you're good to go!
Sporty Casual Outfit
Another Hoodie outfit? YES definitely! For an effortlessly sporty styled look, an oversized hoodie paired with black leggings and white sneakers always work.
Military Move
The military trend is everywhere, jackets, shirts, but why not try military-style jeans? Cargo jeans like these, with pockets down the sides, make a change from your standard pants and make your outfit seem less strict, especially with a crisp white shirt. If you are worried about your thighs appearing chunky, then get a pair with only 2 or 3 pockets, as too many pockets can be unflattering!
Black and Denim Outfit
Jazz up your all black outfit with a denim jacket and you're good to go!
Stripes and Jeans Outfit for school
A super cute outfit idea for the fall season. Stripes top with jeans and an oversized cardigan or a drop shoulder sweater. Complete the look with a pair of stylish moccasins.
Simple and Chic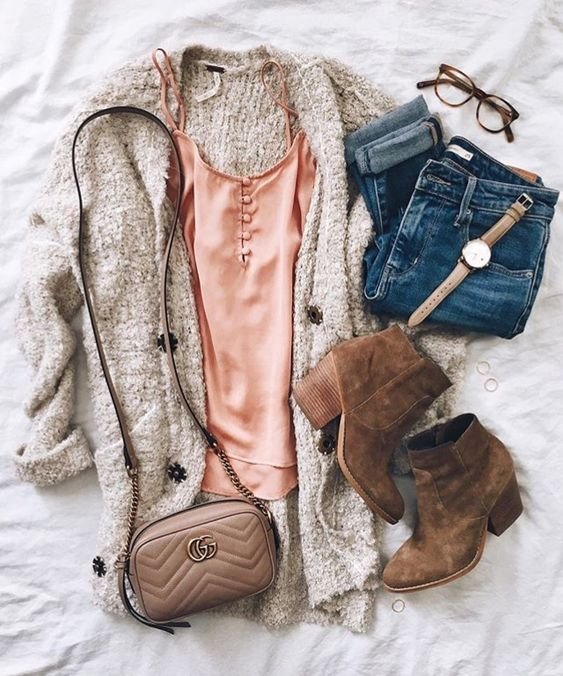 It's not all about which items you have, its more about how mixing them altogether. ADark blue jeans look great with brown and pinkish colors. This special combination of items and colors create a super chic and sophisticated look.
Casual & Comfy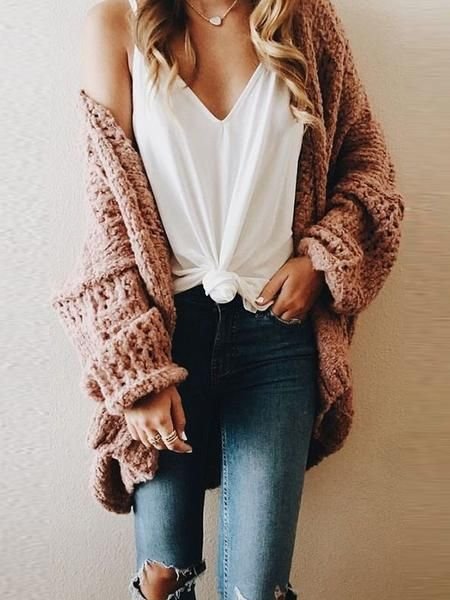 Upgrade your casual style for fall with a chunky knit cardigan. The light rose pink  s a great color to wear with a classic riped jeans and white top.
[td_smart_list_end]
[td_block_ad_box spot_title="Advertisement" spot_id="custom_ad_2″]