[td_block_ad_box spot_title="Advertisement" spot_id="custom_ad_1″]
Must Try Starbucks Pink Drinks And Receipts
We've all heard about Starbucks Pink Drink that has taken over Instagram and is now officially on Starbucks' lineup menu! If there is one thing that gets our hearts racing and makes us run to our nearest Starbucks, it is a gorgeous, artistic photo posted on Instagram. Starbucks have brought out some seriously girly drinks recently which means that it is your turn to get in on the action! Order one or more of these pink drinks and let your creative juices flow!
[td_block_ad_box spot_title="Advertisement" spot_id="custom_ad_5″]
Pink Drink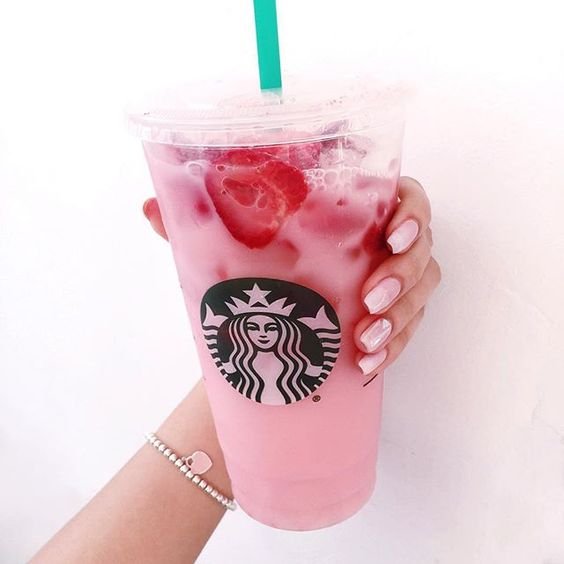 The name pretty much says it all. The pink drink is a mix of Starbucks' iconic Strawberry Acai Refresher with coconut milk for an even sweeter taste. It is fruity and refreshing and is the perfect drink to take a snap off with its gorgeous sunset color.
The Starbucks Pink Drink is loved by many, and new moms are going crazy for this refreshing summery drink, saying it boosts their breast milk supply! Whether or not it is true, if you're a new mom who craves something pinkish and sweet (and Instagram Worthy!), why not try this Starbucks favorite?! Here is how you can make it at home:
Starbucks Pink Drink Receipt – You will need:
 2 fresh strawberries
 5 tablespoons of sugar
 2 cups of water
1 and ½ cups of acai green tea (chilled and sweetened)
1 cup of ice
1 cup of coconut milk (chilled)
½ cup of sliced fresh strawberries (for garnish)
How to:
Throw the strawberries, sugar, and water into a blender and mix until smooth. Add the green tea and repeat.
Fill two glasses with ice and pour them into the blender.
Pour half of the coconut milk per glass, then add the strawberry mixture and blend until you get a baby pink color.
Top off the glasses with sliced strawberries, and then you can get snap-happy!
Ombré Pink Drink
Ombré has been on trend for years, but you can even get on the ombré bandwagon with this beverage. Starbucks mix their Cool Lime Refresher with coconut milk, and another firm favorite, Teavana Shaken Iced Passion Tango Tea for a tangy, floral flavor.
To make this yummy treat at home, you will need:
Passion tea – we recommend Tazo Passion Tea, just like Starbucks!
Lime
Coconut milk
Ice
How to:
Brew your tea and leave it to chill.
Once that is done, mix coconut milk and lime in a separate glass.
How do you get the ombré effect? This is where the ice comes in. Fill half of your glass with ice and then pour in the coconut milk and lime mix until it reaches the top of the ice cubes.
Then SLOWLY pour your passion fruit tea over the ice. We repeat – SLOWLY!
Be prepared to impress your pals with your barista skills and Instagram away!
Unicorn Drink Starbucks
If you haven't heard about this drink, where have you been this summer? This drink may not include sprinkled unicorn tears, but the sweet and sour mix will bring tears of joy to your eyes. At your first sip, it is sweet, but slowly and surely becomes sweetly sour. Here is how you can make it without leaving the house!
Unicorn Starbucks Receipt –  You will need:
½ cup of creamed honey
1 box of food coloring
¼ teaspoon of coconut extract
13 oz of frozen mango
2 to 3 cups of coconut almond milk
1 ½ cups fresh whipped cream
1 tablespoon of pink sprinkles
1 tablespoon of blue sprinkles
½ teaspoon of citric acid
How to:
Stir ¼ of the cup of honey, half of a packet of blue food coloring and the coconut extract. Then grab your cup and create a drizzling effect down the cup, just like Starbucks!
Blend the mango, milk and the other ¼ of the cup of honey, and a dash of red food coloring for it to turn girly pink until it is lump-free. Pour the mixture into your cup.
Add some whipped cream to the top.
Last but not least, stir the blue sprinkles, the citric acid and a dash of blue food coloring. Repeat this step for the pink sprinkles with a tiny amount of red food coloring. Then sprinkle them onto the whipped cream.
Pink Birthday Cake Frappuccino
Is your birthday coming up soon? Lucky you! Order yourself this sweet Birthday Cake Frappuccino, that also goes by the name of the Cake Batter Frappuccino, which makes it sound even more delicious!
Pink Frappuccino Starbucks Receipt –
You will need:
2 cups of ice
¾ of a cup of milk or strong coffee
2 tablespoons of hazelnut syrup
3 tablespoons of vanilla syrup
1 tablespoon of simple syrup
Cake sprinkles
Whipped cream
How to:
Mix all the ingredients except the whipped cream together. If you add the cake sprinkles, do not use a blender as it could break them up and ruin the effect. It may be long, but we do highly recommend mixing by hand!
Top with whipped cream and enjoy!
Unicorn Lemonade Starbucks
If the weather is too hot for something heavy and sticky, you can still enjoy your favorite Starbucks in lemonade form! Loyal Starbucks customers have said it is just a simple mix of frozen mango, sour blue sprinkles (which you guys can replace by Pixy Sticks) and lemonade. Easy but so tasty!
Passion Tea Lemonade
This drink is fruity, floral and refreshing. Starbucks blend hibiscus, lemongrass, and apple to create one of our favorite summer drinks. How can we make it at home, we here you cry? Well here's how:
You will need:
2 Tazo Passion tea bags
16 ounces of water
4 ounces of lemonade
2 teaspoons of sugar
½ teaspoon of vanilla (optional)
How to:
Boil the water.
Once boiled, add the tea bags, sugar, and vanilla.
Leave to sit for 15 minutes. Then remove the tea bags and let it chill in the fridge for an hour.
Pour the tea mixture and the lemonade into a large pitcher. Leave to chill in the fridge again. Enjoy!
Strawberry Acai Refresher
Who doesn't love a strawberry drink? The Strawberry Acai Refresher obviously includes strawberries, with notes of passion fruit and acai, and a hint of coffee. How could you possibly say no?
Straberry Acai Starbucks Receipt – You will need:
You will need:
1 cup of frozen strawberries
½ cup of sugar
1 cup of white grape juice
½ teaspoon of Green Coffee Bean Powder
2 teaspoons of Acai Powder
4 cups of cold filtered water
Ice
Fresh strawberries (for garnish)
How to:
Take the frozen strawberries, sugar, white grape juice, acai powder and green coffee bean powder and bring them to boil in a saucepan and leave to simmer for ten minutes.
Pour this mixture into a fine strainer and use a large bowl to capture the liquid. Push the liquid out of the fruit if you have any lumps. Leave to cool.
Add fresh strawberries to the bottom of the glass just like Starbucks to look like a true pro barista! Then, pour the cooled strawberry mixture over the fruit. Use the last few strawberries to garnish the top of the glass.
Pink Pegasus Frappuccino
The Pink Pegasus Frappuccino is only available at the Starbucks at Disneyland. What makes the drink so good? It isn't just Disney magic! It contains yummy white mocha and raspberry for a chocolate and fruit combination that you will absolutely love! Plus how cute and girly is it?
Strawberry Lemonade Tea
A Starbucks barista created this drink for a customer who was hesitating between a strawberry lemonade and a black tea. If you are one of those people, who can't come to a decision once at the till, why not try out a concoction like this one? For those who don't have a Starbucks nearby, here is how you can make it yourself.
You will need:
2 teabags of your favorite tea
½ glass of lemonade
½ glass of water
1 packet of strawberry flavoring
¼ cup of ice
How to:
First, boil the ½ cup of water. Once this is done, add the 2 teabags to the water for a super black tea.
Pour the tea into your chosen glass and leave it to cool.
Then, pour the lemonade in, this may seem weird, but trust us – this drink is delicious!
Refrigerate the drink to make sure it is cold and refreshing.
Finally, add the strawberry flavoring and blend the whole drink with fresh ice. You can garnish the drink with fresh strawberries if you are feeling fancy!
Pink Cotton Candy Frappuccino
This sweet treat is ideal for people who don't drink coffee or for younger members of the family. The drink is really the Starbucks classic vanilla bean Frappuccino with a dose of raspberry syrup to make it even sweeter! Here is how you can make it at home…
You will need:
1 ½ cup of ice'
½ cup of vanilla bean ice cream
2 tablespoons of vanilla syrup
2/3 cup of milk
3 tablespoons of raspberry syrup
Whipped cream
How to:
Blend the ice cream, milk, syrups and ice together until smooth just like your favorite Starbucks Frappuccino!
Pour the mixture into your glass.
Top it all off with whipped cream and dig in!
Pink Purple Drink Starbucks
This drink is dreamy without having even tasted it! It is the perfect ombré blend of the pink and purple drinks. The mix of strawberry and passion fruit will be your must-have fruity drink for this season. Here is how you can do it yourself:
You will need:
The Pink Drink (see first slide)
¼ cup of Passion Iced Tea
¼ cup of soymilk
2 scoops of fresh blackberries
Ice
How to:
Pour your pink drink into your glass until it fills half the cup. Put it aside for the time being.
Next, blend the passion iced tea, soymilk and one scoop of the fresh blackberries until smooth. Keep the other scoop for later.
Then, put half the ice in the blender with your berry mixture and blend again until smooth.
Go back to your glass with the pink drink in it and add the leftover ice. Then GENTLY pour the purple drink into the same glass.
Finally, garnish the top of the drink with the last scoop of blackberries.
[td_smart_list_end][td_block_ad_box spot_title="Advertisement" spot_id="custom_ad_2″]